Oncology is set to dominate the clinical trials activity in 2020 based on an early preview of trials that are expected to start and be completed in the year, according to GlobalData, a leading data and analytics company. 
In addition, industry-sponsored trials are expected to dominate the planned clinical trial landscape in 2020, accounting for 61.9% of studies, while non-industry sponsors hold 38.1%. Regardless of the sponsorship differences, oncology is the top therapy area for both industry and non-industry sponsored clinical trials. So far among the industry sponsored trials, Eli Lilly and Novartis have reported the most planned studies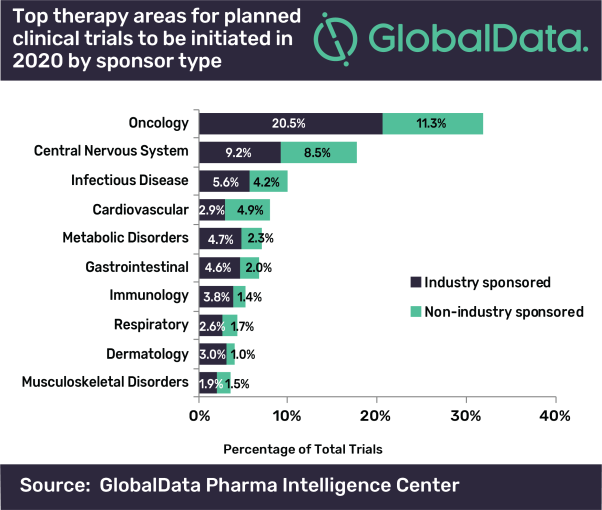 IMAGE Available: Top therapy areas for planned clinical trials to be initiated in 2020 by sponsor type
Mohamed Abukar, Pharma Analyst at GlobalData, commented: "In oncology, a majority of the studies are in Phase I and Phase II. A large number of early-stage clinical trials within this field are likely to be due to the demand for novel therapeutic approaches addressing unmet medical need which can be achieved through investigations in the clinical setting."
Industry focus on oncology 
The majority of the top ten indications lie within the oncology therapeutic area (70%), with the most trials planned for solid tumour by industry sponsors. Planned clinical trials for other top oncology indications are also predominately industry sponsored, highlighting the overall dominance of industry within early stage clinical investigations for oncology.
Abukar continues: "This is attributed to the manner in which the burden of cancer worldwide necessitates industry investment to allow for capitalization on the increasing market size."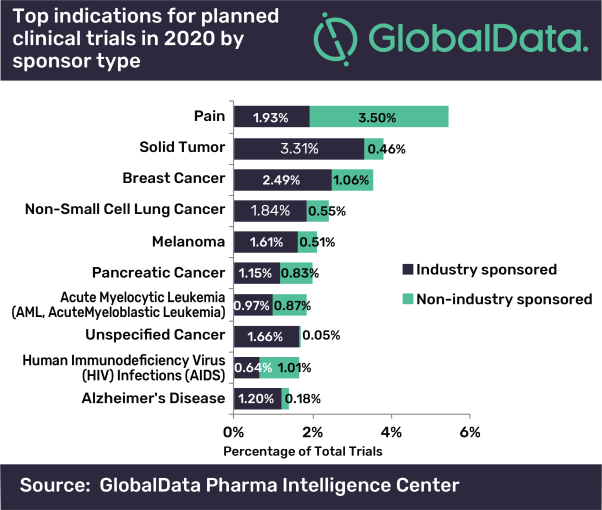 IMAGE Available: Top indications for planned clinical trials in 2020 by sponsor type
Rise of monoclonal antibodies
GlobalData further analyzed the non-marketed, innovator pharmaceutical products in Phase I–III development by industry sponsors. Four of the top seven non-marketed drugs are monoclonal antibodies, suggesting the rising interest in these agents, particularly within the oncology research space. Zymeworks' monoclonal antibody ZW-25 and Kodiak Sciences' monoclonal antibody KSI-301, hold the equivalent highest number of trials to be initiated for drugs in development.
US dominance
US dominates the research space for planned trials to be initiated in 2020, accounting for almost the same number of trials as the rest of the top ten combined.  China holds second place followed by Australia, France, Canada and the United Kingdom.
Projected milestones for trial completion
Shifting focus to clinical trials due for completion in 2020, GlobalData's analysis found the greatest proportion of trials are currently in Phase II, while Phase IV trials follow narrowly outnumbering Phase I trials. There are more non-industry sponsored trials with a projected completion date in 2020 than industry sponsored trials with Memorial Sloan Kettering Cancer Center having the most trials projected for completion. Novartis is the industry sponsor with the highest amount of trials with a 2020 projected completion date.